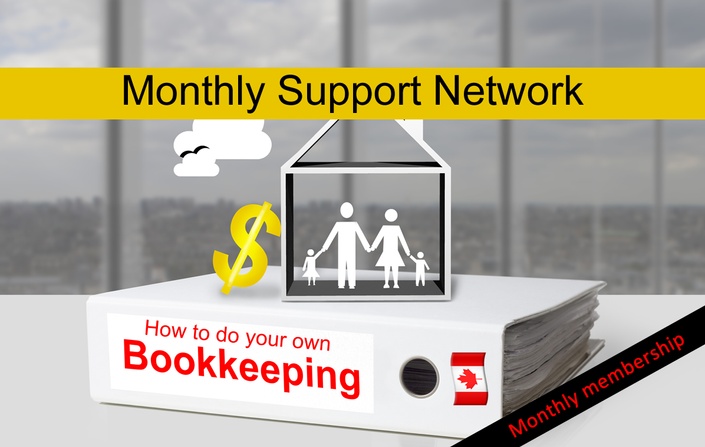 Bookkeeping Support Network
An ongoing support network for small business owners.
COMING SOON!
The bookkeeping support network is built for small business owners.
Join us bi-monthly for training sessions how to do your own bookkeeping.
Ask questions, share screens, get peer support, and other information.
Between sessions, stay informed with the latest information that pertains to business owners.
This is a monthly subscription, but cancel anytime.
NOTE*** Signing up today will get you free early bird pricing when we launch in the winter of 2019.
This course on Canadian based bookkeeping will change your world!
It overrides several challenges that an average sole proprietor (solopreneur) will have.
1. It gives good old fashioned CANADIAN content!
Have you ever been looking for something on the internet, and think that you have found it! Then you see this sentence "Your taxes with the IRS....", and your heart drops! Darn! This is American content and may or may not apply to you!
This course gives you Canadian content from an instructor which has years and years of experience in her field.
2. It is affordable.
We know that sole proprietors sometimes struggle with their finances and every dollar you make is precious to you! We have made this course affordable so that you can easily get the information you need.
3. It is reliable.
Lynn Webb has extensive experience in the bookkeeping field teaching business owners how to do their books. She used to own a professional bookkeeping firm with hundreds of clients. She knows the quickest and easiest way to get things done and save money!
Frequently Asked Questions
When does the membership start and finish?
You get access to all workshops as soon as you join!
How long do I have access to the course?
You will have access to the recorded sessions for 6 months. Session access closes as soon as you close your membership.
What if I am unhappy with the course?
We never want anyone to be unhappy! However, due to the live nature of this event, there are no refunds. You can cancel your membership at any time.